Last year saw an abundance of campaigns that spread beyond any marketers' wildest imaginations, especially thanks to social media. 
 It can be hard to distinguish what key elements contributed to the success of these campaigns, but we spotted a couple underlying attributes in our top 5 list below. These included big-name celebrity appearances, controversial messaging and above all, humour.  
 With 2019 behind us, we look at a few of our favourite campaigns, the companies behind them, and most importantly, their key messaging to the public.  
Wendy's Twitter account may be considered the founder of sarcastic corporate social media conversation, with their followers constantly being "roasted" by the platform.  
Wendy's did not hesitate to leverage their cool social status with their Twitter followers (which as of today sits at 3.4 million) with their viral #WendysSpicyNuggets campaign. With a little motivation from their fan and friend Chance the Rapper, the tweet received a ton of attention.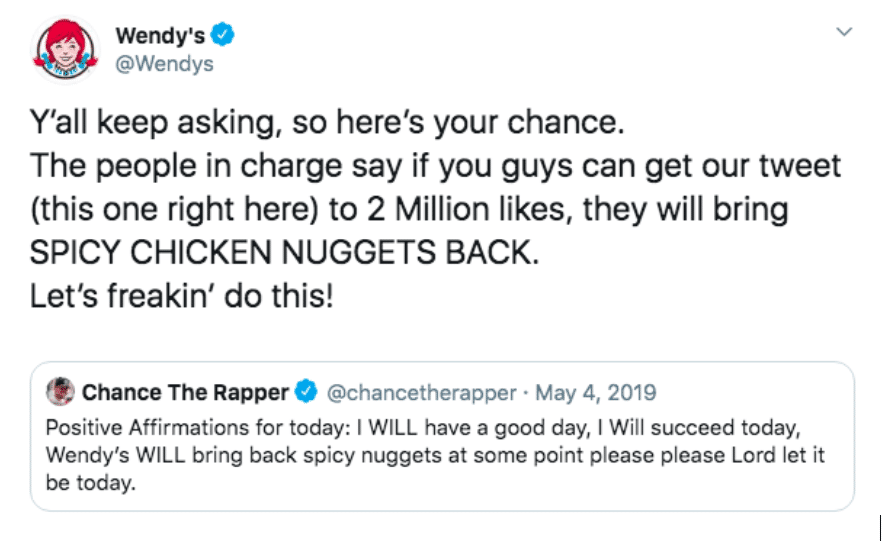 It only took a few days for Chance (and the rest of the world) to have their wish granted by the fast food corporation. It's no surprise that Wendy's was already planning to bring back their Spicy Nuggets due to its high demand. Prompting their affluent social media community with a single tweet proved to be a brilliant move for increasing engagement. 
Nike set the tone for their ad success early into 2019 when they ran their "Dream Crazier" ad during the 2019 Oscars in February.  
 The ad features the voice of Nike-affiliate Serena Williams who explains that titling women as "crazy" is more of an incentive for women to show what "crazy" is capable of.  
 Once the ad broadcasted to Oscar viewers, the video was released on each of Nike's social channels as well. This created an immediate stir across the internet, sparking shares to other popular accounts including NowThis, LADbible, Complex, and many more online publications. These individual shares are estimated to have racked up an additional 1-million views. 
 This does not include online celebrity support and shares, which notably started with Serena and spread to FIFA athlete Carli Lloyd. Ellen even used her comedic outlet and showcased the ad on her show.  
 The success of this ad proved the importance of multi-platform distribution. In recent years, Nike has made themselves a notable video-advertiser due to this and to working with celebrity athletes. 
With the Raptors heading into the NBA finals, it is no surprise that #WeTheNorth sprung to the top of the list of trending hashtags. But followers may have been surprised to see #ThisIsCanada up on the list with it.  
 A Canadian journalist by the name of Muhammad Lila took to Twitter to share the incredible story of Nav Bhati, a 67-year old Raptors superfan who attended every home game for 24 years.  
 Lila's thread garnered a surplus of attention from basketball fans alike. It was only a matter of time before long-time NBA sponsor Tim Horton's shared their support of Nav Bhati.  
 Their support gained viral-status by utilizing the best tool digital marketers know: video advertising. This 1-minute clip shows Bhati on the Raptors court sharing his message of embracing different cultures while enjoying the game of basketball. 
 In turn, the video promoted not only Bhati, the Raptors and the 2019 NBA Finals, but Canada as the welcoming nation it is.  
2."The Best Men Can Be" by Gillette  
If you were on the internet in January of 2019 you had to have viewed Gillette's controversial "short-film" commercial centering around the subject of toxic masculinity.  
 The brand did what many others have opted to do by showcasing their stance on a controversial issue. In the era of acknowledgement of large societal issues taking shape over social media, many companies are now following this movement.  
 Gillette used the video to showcase what toxic masculinity may look like, even calling themselves out for previous actions and messaging. The key message of this ad is questioning, "is this really the best a man can get?"  
 By referencing their well-known slogan, many believe they have indicated a shift in their messaging and objectives moving forward.  
 If nothing else, Gillette made itself a large figure in the controversy of masculinity and sparked a large conversation. 
And our top social media campaign of the decade starred an egg!  
 January of 2019 was a confusing time for many Instagram users, who unexplainably saw the boom of an account featuring nothing but an egg.  
 The single objective of "The Egg" was to surpass the post with the most likes during that time – which was Kylie Jenner's first photo of her daughter – which held at 18 million likes. 
 This goal was achieved within a few days, with the post currently sitting at 51.4 million likes. It garnered worldwide attention and notoriety, even being officially verified on Instagram 10 days after its birth.  
 The biggest question that arose from this ploy was – what's the point? Why should we feel so obligated to do what The Egg wants? What is it even marketing? 
 The answer is simple – @world_record_egg aimed to show the power of social media itself. A single, inanimate object spread to all parts of the world and garnered more likes than Instagram had ever seen.  
 This is a notable lesson for not only general users and influencers on social media, but also for us as digital marketers. Messaging must be well-thought and contrived properly, for our clients and for our own moral consideration. 
 One month after its introduction, World Record Egg shared a cute animation showing that it had "cracked under the pressure of social media" and encouraged others who may be feeling similar tension to visit talkingegg.info, a site providing mental health resources.